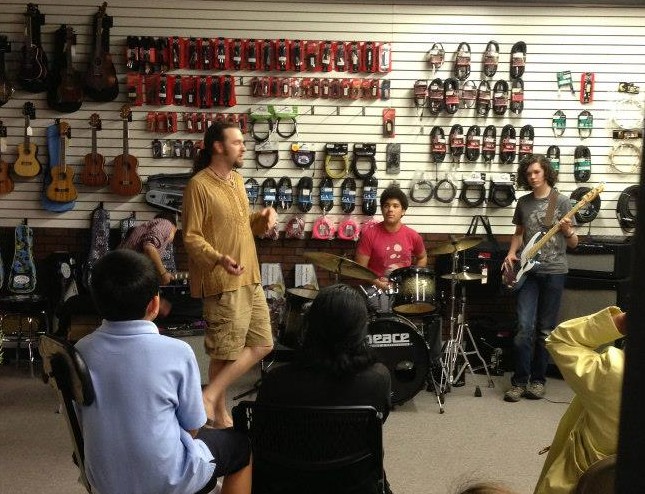 From drum kit to hand drumming instruction, Richie takes a hands on approach that is fun for all ages and levels. Drum kit sessions are conducted in a one-on-one environment with two drum kits side by side. With 20 years of drumming experience, from venues to festivals to studio sessions, Richie has gained knowledge and experience in all areas.
Richie currently teaches from his home studio in Tucker, Georgia, and is a staff member at Pepperland Farm Rock Camp in Murphy, NC and Chicago Joe's Rockin' Blues Camp in Atlanta, GA during the summer.
Rock, funk, Latin, blues and reggae–you can learn it all with Richie. Turn off the X-box, sit down behind a real drum kit, and experience your true passion for percussion!
Richie's student, Lucy (age 11) performs Tom Sawyer by RUSH:

---
"Richie is a phenomenal drummer and an even better teacher, whose enthusiasm for percussion and music-making is infectious. Our daughter loves learning from him, and we couldn't be happier with her progress as a drummer." – Lena Vrazel

"Richie is an extremely gifted instructor. He teaches our 10-year-old daughter, and our 5-year-old son, with an effective combination of skilled experience, tireless patience, and resourceful adaptability. Richie moves seamlessly between the children's ages, developmental stages, and very different personalities, and is always extremely present with each child's individual interests and abilities. His lessons are fun, yet focused, emphasizing disciplined technique, while inspiring creative expression. Richie is a great role model for our kids, motivating them to approach drumming — and music, in general — as a joyful activity that will enhance their whole lives. We highly recommend him!" – Patricia Richmond

"Our son showed an interest in drumming early, in fact too early for the typical music instructor. After an impressive recommendation from one of Richie's peers and a fantastic discussion with Richie, we signed our son up for lessons. It's been nothing short of incredible. Richie has done an amazing job of identifying the structural elements of what our son is naturally doing and presenting the instruction to him at his age level. Richie is deft bobbing between the fun of playing a song and pulling out instructional elements within it. It has not only encouraged our son to take on more complex patterns, but also to identify those patterns within a wealth of genres. Richie's contribution to our son's musical growth has been invaluable." – Martha and Joshua Barbieri