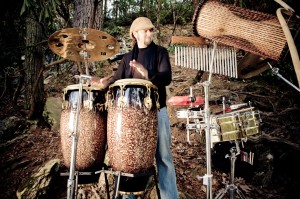 With over 20 years of recording experience, Richie has recorded on over 15 albums. His "be on time" work ethic guarantees the client that efficiency and professionalism come first throughout the entire recording process. His attention to detail is what makes his recording style unique. "When I first enter a studio environment, I not only want to get a feel for the music and the artist, but also for the room."
With a wide variety of gear, Richie has a knack for finding the right sound for the occasion. From his 1974 Rogers Powertone Series kit, to his newest set of Sonor S-Classix, he knows what is necessary for every recording situation. Also included in his arsenal is a large array of snare drums, cymbals, congas, and a full Latin percussion setup. Not only can he complete all of the necessary drum kit parts, he can also track any auxiliary percussion that may be needed as well.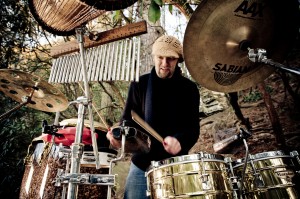 The most unique quality that Richie has to offer is his sense of musicality. It's not how many notes that make a drum part good, it's how the notes are placed. Richie believes firmly in playing musically. "The attention to groove and dynamics is what makes the outcome of a recording either good or bad," he says. Richie believes that the drum part is just as important as the vocals or guitar parts.
Being a backup singer in all of his projects allows Richie to not only know what drum part fits best, but also his sense of tone, pitch, and melody. While working with a client, Richie has an ear that can be helpful in zeroing in on what may be needed for the song.
Richie's main focus in the studio is for the client to have an all out fun and creative recording experience. From laying down the drums parts in a timely manner to helping polish up a song for recording completion, his goal is to deliver!
---
"I've had many drummers in my studio. Richie Jones is my favorite. He can tune a drum quicker and sweeter than I'll ever be able to, and all by ear (I have to use a drum dial to even get close). He also knows how to perfectly balance his kit while playing so that it always comes across as one instrument, not a collection of drums. Throw up one mic or twenty…it will sound killer…and when he hits the drums, his focus is on two things: playing the right part for the song, and producing the right tones for the song…the proof is that it ALWAYS sounds right, first take." Kris Kolp, Log Cabin Studio http://www.logcabinmusic.com
"Richie is a powerhouse drummer with great rhythm and feel." – Jeff Bakos, Bakos AMP Works and Studio